From the flavour and style of wedding cake, to which colours you use to highlight your day. The outfits you'll wear, to the stationery you'll create to invite your guests. There are so many things to consider when you're planning a wedding.
Turning to the trends for the year ahead for inspiration can help you to focus your efforts. As well as helping you to bring in ideas that form an on-trend contemporary experience.
The Mercure Kenwood Hall Hotel & Spa's wedding planning team always keeps ahead of the latest wedding trends to help them advise and inform couples wishing to hold their wedding in this special place. Here Beverley Davidson, Events Manager, shares the 2023 wedding trends they believe will be prominent in 2023.
Muted Tones Versus Bright & Punchy Colourways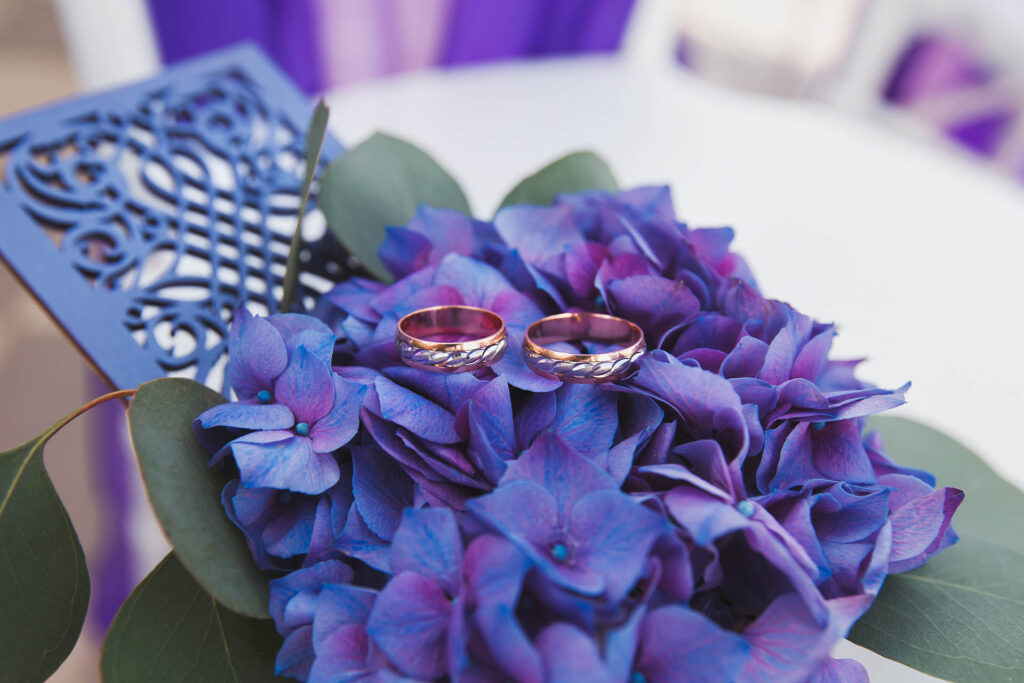 Two distinct wedding colour trends are emerging as we head into new year, each beautiful and uniquely suited to a wedding, in their own way. These two extremes of wedding are being driven in the most part by expert colour forecasters such as Pantone and Dulux, each of whom have chosen contrasting shades but to project a similar outlook.
The Pantone Colour of the Year is a bright 'red/pink' shade of magenta that can't help but make you smile. It's perfect for bringing in a pop of vivacious colour to your wedding. Celebratory, joyous, and full of optimism it makes for the perfect wedding colour scheme. Pair with more muted greens or grey/blue tones for balance or add a pop to a monochromatic scheme.
At the other end of the scale, Dulux's colour choice is a more mellow hue that can be paired with other tones of a similar ilk for a relaxed vibe. Whimsically named Wild Wonder, you could call it the new neutral with its laid-back yellowish tinge.
Unique and Unusual Venues
People won't always want to go for the obvious choice this year when it comes to wedding venues. If you want something a bit different to the usual church or hotel-based wedding, then this could be the trend for you.
More often we're being asked to hold the ceremony in different areas of the hotel including outside which thankfully we can now accommodate thanks to the changes in law coming into play.
We're seeing a trend of people wanting to move their party around the venue, holding the ceremony in one area and then travelling to a different space such as our stunning Laura Ashley The Tearoom for cocktails. Then, potentially outside to our superb tipis for the reception part of the day. The contrasting venues providing a unique sense of occasion and by choosing rooms with exceptional décor there's less need to dress each space.
Other unique venues in the vicinity of our hotel include a romantically candlelit cave – an intimate setting for a truly unforgettable ceremony. The magnificent rock structures of Treak Cliff Cavern in the Peak District, providing a perfect backdrop that's within easy travelling distance of the warmth of Kenwood Hall's accommodation.
Budget Friendly and Sustainable Weddings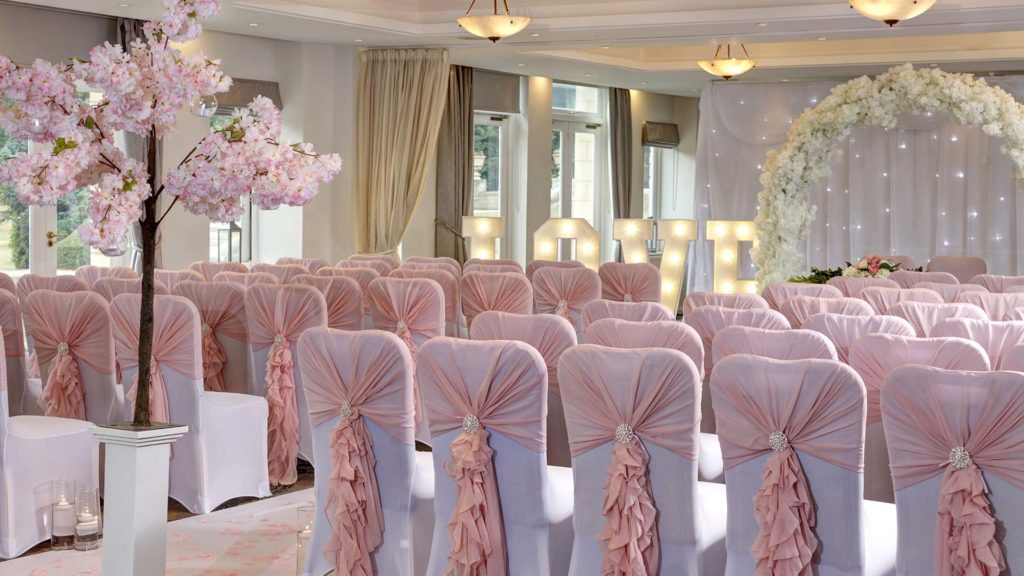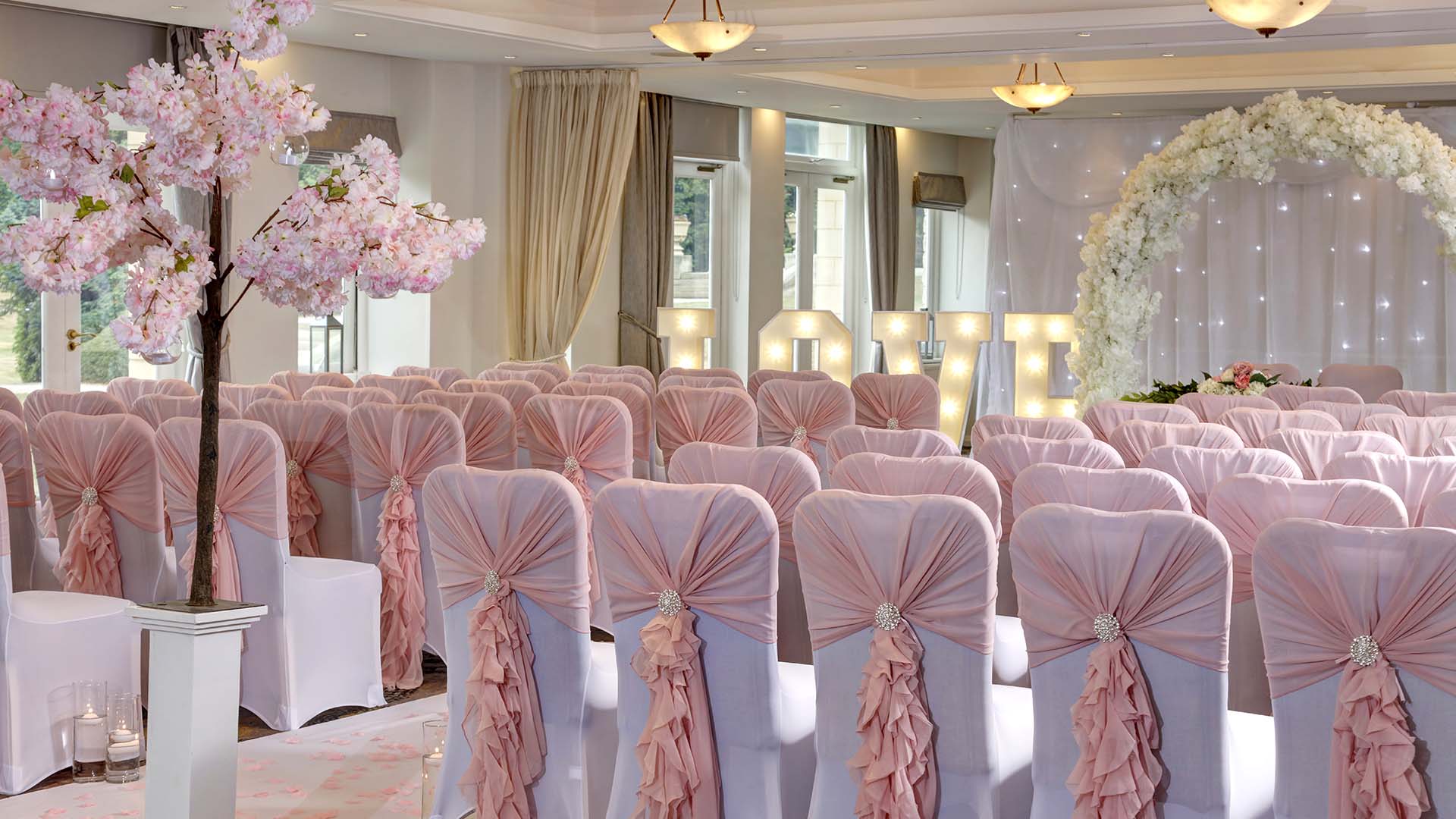 Whether it's opting for a pre-loved bridal gown and bridesmaid dresses or shunning cut flowers for lovingly cultivated pot plants, sustainable and eco-friendly wedding choices can actually be good for the purse strings as well as the environment. Never has either been more needed than in 2023.
Other sustainable budget choices include cutting back on food waste by just having one meal. You can slightly shift the time of your ceremony to negate the need for both a wedding breakfast and evening buffet and invest your wedding budget in making the one meal extra-special. Think afternoon tea wedding or a twilight event – with an evening ceremony and one incredible party!
Scour charity shops and thrift stores for eclectic table décor. Candles are a great swap for flowers and can add a sense of romance to the room. Make invitations entirely virtual. Swap Champagne for sparkling wine cocktails – but infuse them with fun. Name each cocktail after someone in your wedding party and list the names on a chalkboard at the reception entrance. It turns a simple cocktail into a talking point – and guests will never notice the budget swap.
Multi-Sensory Weddings

This year, couples are thinking with all the senses when planning their big day, including something that's often overlooked – fragrance.
A modern update is to use scent-scaping, creating a journey of fragrance throughout your venue. Each room delicately fragranced with a scent that's complementary to the next. And of-course candles create an atmospheric glow too, adding to the multi-sensory experience.
Think too about the sense of touch, for the reception, you could bring in tactile tablecloths and runners in linen, velvet, rattan, or silk to offer a sensory experience even while guests are seated. You could also use furnishings with bold patterns and include cushions and blankets for texture.
A FINAL TREND WE LOVE….
We've had lots of requests for personalised dance floors, which we think adds a special and unique touch to your day. Whether it's a monogram of your initials, a bespoke design, or a motif to tie your reception in to the rest of your wedding, it's a real talking point and looks fabulous on pictures.