SOCIAL MEDIA/GOSSIP PAGE FOR MERCURE Sheffield Kenwood Hall Hotel & Spa
We love to hear you thought about out lovely hotel but if you have any concerns or questions please email us:
TEL: 01142 583811
If you want to get involved connect with us on social media where you will find the latest news, events and offer from the hotel.
---
Facebook Posts
Today, we wore it pink to raise money for breast cancer awareness.

Pink clothes, pink hair and pink food! A great day for a great cause.

#WearItPink ... See MoreSee Less
#FridayFeeling ... See MoreSee Less
Peak District Autumn Newsletter

Welcome to the Autumn Newsletter
Happy Autumn everyone! Thank you so much for subscribing to Let's Go Peak District – we love sharing all our news with you.

Here's our September/October Newsletter. It's packed full of information about what's new on our website, including Peak District walks, inspirational articles from local people, super talented photography ambassadors, great places to explore, beautiful places to stay, and upcoming events. Enjoy!

Walking Tales
We've published LOADS of new walks on our website recently, sending you off in all directions from the Goyt Valley to Castleton. Also, did you know that every Saturday morning at 10.00am we publish a new walk on our Facebook page? We've also started to publish Kids' Walks too, and even Running Routes – for those who like their Peak District views with a bit more blur.

For Everyone, For Always
letsgopeakdistrict.co.uk/for-everyone-for-always/
We love creating videos of our adventures out and about in the Peak District, telling the stories behind some of the area's best-loved locations. Over the summer we went one step further, however, and produced a video showcasing the whole of this stunning National Park that we love so much. We've called it 'For Everyone, For Always', because that pretty much sums up the Peak District to us. Please do have a watch and feel inspired! By the way, if you list your property on our website and you'd like to feature the video (entirely free of charge) on your own website or Facebook page, please contact us for details on how to do this.

Peak District Voices
letsgopeakdistrict.co.uk/peak-district-voices/
Every few weeks on our website we feature one of our 'Peak District Voices'. These are inspirational people from all over the area who create blog posts for us about their lives and adventures. Recently we've featured fascinating articles from the National Trust, the Outdoor City, Eyam Repair Café, Edale Mountain Rescue Team, Sue Prince OBE, and the Peak District National Park Foundation. Grab a cuppa, pull up a comfy chair, and have a read!

Peak District Views
letsgopeakdistrict.co.uk/peak-district-views/
Having brought you 'Peak District Voices', over the summer we also launched our 'Peak District Views'. These are hugely talented guest photographers, all based in the Peak District, who share their beautiful photographs of the area with you through our Facebook page.

Spotlight on …. Wyming Brook
letsgopeakdistrict.co.uk/listing/wyming-brook/
Our website contains loads of information about Peak District towns, villages, attractions and places of interest. In every Newsletter we feature a place that you might like to learn more about, and this time it's the turn of Wyming Brook, a wooded ravine with a crystal-clear brook tumbling through it, criss-crossed by a series of a picturesque wooden footbridges. We hope it inspires you to visit!

When Visiting the Peak District you can stay @ the Mercure Sheffield Kenwood Hall Hotel & Spa. ... See MoreSee Less
Load more
Yesterday, the team wore it pink to raise money for breast cancer awareness #WearItPink
Twitter feed video.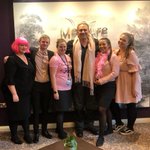 Load More...
---
Need to get in touch
If you have any questions please complete the form below and we will get back to you