Walking trails for all
Kenwood Hall Hotel is perfect for group, leisure and corporate travellers who are looking to explore the nearby Peak District and the surrounding areas.
We have put together some suggestions for walking and cycling routes in the area, which are ideal for individuals and groups.
Kids' Walk:
Robin Hood's Stride,
Postcode; DE4 2BW
Distance; 2.7 miles
Time; 2-3 hours
Terrain; Field paths and country lanes Robin Hood's Stride Walk is fantastic for adventurous kids and their grown-ups alike. You will enjoy climbing the trees, scrambling over the huge rocks, exploring the hermit's cave and playing on the rope swing. There is free street parking in the pretty peak district village of Elton at the start of the walk.
Kids' Walk:
Three Shires Head,
Postcode; SK17 0SU
Distance; 3.8 miles
Time; 3-4 hours
Terrain; Grassy footpaths and country lanes Three Shires Head is where the counties of Derbyshire, Staffordshire and Cheshire meet. It's a series of beautiful pools, waterfalls and bridges in the middle of the countryside. On sunny days it's the most perfect spot for swimming, paddling and picnicking. Along the way you'll find a rope swing and a tree to climb, and there's no shortage of wild open fields to run around in. Be aware that you are likely to encounter cows on this route.
Accessible Trail:
Ladybower Reservoir Walk,
Postcode; S33 0AQ
Distance; 5.5 miles
Time; 1-2 hours
Terrain; Well made tracks and quiet pavements, gently undulating Ladybower Reservoir is a lovely gentle walk on well-made paths and offers the most magnificent views for only a small amount of effort. The circular route completes a circuit of one half of Ladybower Reservoir and passes the awe-inspiring Derwent Dam, scene of the practice flights for the famous Dambusters raids during WWII. The accessibility of the route makes it suitable for family-friendly cycling and users of all-terrain wheelchairs or pushchairs, as well as hikers and dog walkers.
Accessible Trail:
The High Peak Trail,
Postcode; DE4 5HN
Distance; Runs for 17 miles
Time; 6hrs
Terrain; Level, flat and well maintained The High Peak Trail is a traffic-free path that runs between Dowlow near Buxton and High Peak Junction near Cromford. It follows the route of the former High Peak Railway Line. The conversion was carried out in 1971 transforming it into a trail for walkers, runners, cyclists and riders. High Peak Trail is level, flat and well maintained, making it accessible for wheelchairusers.
The surface is made of crushed limestone. There are a number of level access points on to the route, including Hurdlow, Parsley Hay, Friden and Minninglow. There is impressive evidence of the railway construction along the route which blends into the beautiful rolling green fields.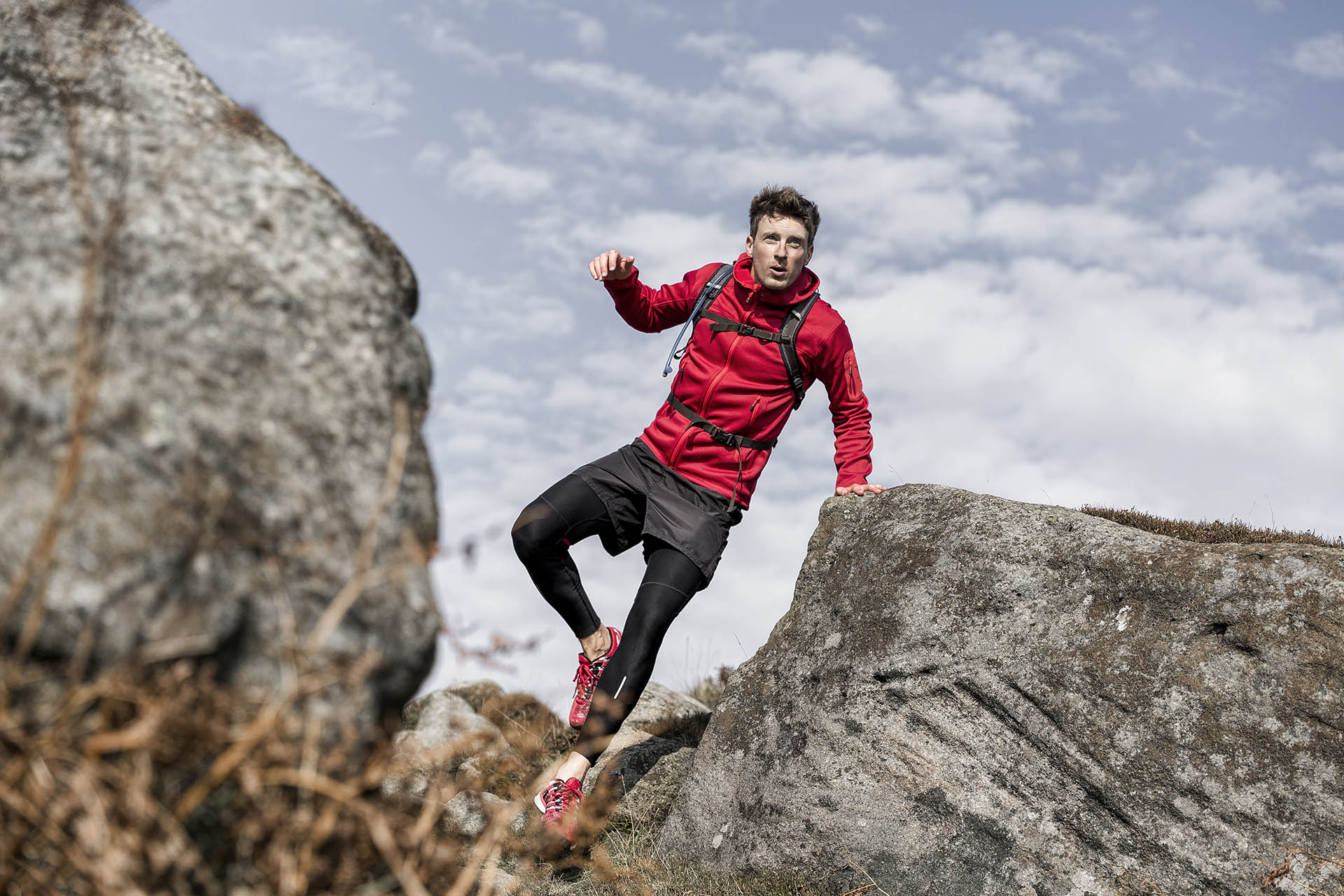 Running Route:
Hope Panorama Running Route,
Postcode; S33 6RD
Distance; 3.9 miles
Time; 45min
Terrain; Road crossings, railway crossing, wooden stiles The Hope Panorama run provides an impressive little tour of the spectacular valley in which Hope village and Castleton nestle. As a Grade 1 run it is relatively flat, with only short/gentle hills to contend with, but the setting is fantastic. You have great views in every direction as you cover the valley. The hills of Mam Tor, Lose Hill and Win Hill tower above you, as does Peveril Castle perched high above Castleton. The dramatic valleys of Winnats Pass and Cave Dale are visible at times, giving a real appreciation of the landscape.
Life on the Edge Running
Route, Postcode; S32 3YR
Distance; 5.7 miles
Time; 1hr 30 mins
Terrain; Road crossings, steep rocky sections This wonderful route explores some of the dramatic rocky edges that run along the eastern side of the Peak District. It's a circular route from Curbar Gap which offers some great high level running with superb views across the valleys and villages below, as well as some classic moorland with a really remote feel. The route is on well-trodden paths that are generally easy to follow, although not all turns are well signed.
Suggested Itineraries
North Derbyshire's largest market town is known for its distinctive Crooked Spire that dominates its skyline. But there's so much to explore, and it's a great place to visit without a car. Chesterfield is a paradise for shoppers, with its Market Hall and cobbled Market Place, home to one of the largest open-air markets in England. Chesterfield is also surrounded by breath taking historic venues and stately homes.
Day 1 – Tour Chesterfield
The distinctive Crooked Spire stands at 228 feet high and 'leans' 9 feet and 6 inches from its true centre – it's a great place to get a panoramic view across the town. Chesterfield is also a paradise for shoppers, with its handsome Market Hall and cobbled Market Place, home to one of the largest open-air markets in England, with a host of regular markets including farmers' and artisan markets.
Nearby in the charming Shambles are a cluster of independent shops and cafés, while you'll find famous High Street names at the Pavements and Vicar Lane Shopping Centres. If you're fascinated by history, visit the Chesterfield Museum and Art Gallery charting Chesterfield's commercial and industrial past. Also close by are Renishaw Hall & Gardens, ancestral home of the literary Sitwell family, and Creswell Crags, one of the most northerly places on earth to have been inhabited by our Ice Age ancestors.
Heritage-lovers would also love a visit to Barrow Hill Roundhouse, the UK's oldest surviving operational railway roundhouse.
Day 2 – Hardwick Hall and Chatsworth House
Chesterfield is the perfect base for exploring stately gems: built by the formidable 'Bess of Hardwick' in the 1500s, is just a 15 minute taxi ride away, and offers the opportunity to follow in the footsteps of one of the most powerful women in the country. There's also more than 300 acres of historic parkland surrounding the Hall, with ancient woodlands and wildlife-rich fishing lakes to explore. Alternatively, head to Chatsworth; the jewel in the Peak District's crown - is only a short bus journey away. There are regular buses from Chesterfield station to Nether End, Baslow, which is 2km from Chatsworth (approximately 25 minutes' walk). Explore the magnificent home of the Duke and Duchess of Devonshire, passed down through 16 generations of the Cavendish family, then wander the magnificent gardens and parkland, before enjoying the quality shops and restaurants.
Offering some of the best views and most picturesque villages in the country, Derbyshire's iconic Hope Valley is one of the best-loved parts of the Peak District National Park. In this itinerary, discover a Norman castle, spectacular show caverns, a master of modern design and one of England's longest gritstone edges. Hope Valley is a place to visit with affordable activities easily accessible by bus.
Day 1 – Local Visitor Centre and Peveril Castle
First stop suggested is the local visitor centre which is bursting with information and friendly staff to help make the most of your visit. Castleton visitor centre features interpretation displays, a dedicated space for Castleton Historical Society's museum, a great retail area, an area for activities and a cafe. It's a short walk from the visitor centre to the foot of the castle which gives Castleton its name. Peveril Castle is one of England's earliest Norman fortresses and the imposing ruins stand high above Castleton. Climb to the castle at the top of the hill to enjoy the breathtaking views over the Hope Valley. The keep was built by Henry II in 1176. Explore the remains of the keep. Once returned to the bottom, why not visit the show caverns. Peak Cavern is in the heart of the village which actually goes underground below Peveril Castle. Speedwell Cavern is at the foot of the impressive Winnats Pass, you can embark on a spectacular underground journey by boat. At Treak Cliff Cavern you can visit one of the only places in the world you find the semiprecious gemstone Blue John!
Day 2 – Explore Derbyshire's 'Lake District' Sometimes referred to as Derbyshire's
Lake District, the Peak District's Upper Derwent Valley is known for its majestic reservoirs, spectacular scenery, peaceful forests and wild open spaces. The area is home to three large dams, known as the Derwent Dams, which offer some of the area's most incredible scenery. The dams are called Ladybower, Derwent and Howden, which form Ladybower Reservoir, Derwent Reservoir and Howden Reservoir respectively.
Surrounded by luscious countryside and rugged edges. An ideal starting point for your visit to the area is the Peak District National Park's Visitor Centre at Fairholmes in Bamford (postcode: S33 0AQ). The centre is a great base from which to explore the Upper Derwent Valley and surrounding moorlands.
Cycling routes
Parsley Hay Circular Family Bike Ride,
Postcode; SK17 0DG
Distance; 13 miles
Time; 3-4 hours
Terrain; Cycle trails, a short section of road and gates to open. This route takes in the most perfect views across the White Peak, and a short detour (on foot) allows you to explore the mysterious ancient site of Minninglow Hill. Although it is quite a distance, this is the perfect route for a family day out – take it easy with rest stops to enjoy the views and take along a picnic!
The Monsal Trail, Postcode: Sk17 9TE
Distance; 8.5 miles
Time; 1hr
Terrain; Cycle trails, a short section of road and gates to open This route takes in the most perfect views across the White Peak, and a short detour (on foot) allows you to explore the mysterious ancient site of Minninglow Hill. Although it is quite a distance, this is the perfect route for a family day out – take it easy with rest stops to enjoy the views and take along a picnic!
Upper Derwent MTB Classic
Distance; 17 miles
This is one of our most popular routes, exploring the extremely popular Upper Derwent Valley. Mountain bikers have been riding in this area for years due to its uniquely challenging trails, stunning views and flowing singletrack. This Upper Derwent MTB Ride gives a great introduction to anyone who is a keen mountain biker but perhaps hasn't ridden in the area before.
Places to visit and things to do
Winter Garden
Peace Garden
Sheffield Theatreland
The Cutlery Works
The Sheffield Antiques Quarter
The Devonshire Quarter
City Centre Shopping
FlyDSA Arena
Chatsworth House
Hardwick Hall Elizabethan Country House
The Derbyshire Peak District National Park
Kelham Island