Opening on the 17th June 2019
The New Laura Ashley The Tea room at Kenwood Hall Hotel & Spa is a an amazing addition to a wonderful hotel.
Book online using the tool below:
Serving Brunch & Afternoon Tea daily 10:00am – 6:00pm.
Experience the great British tradition of afternoon tea.
Designed in the distinctive signature Laura Ashley style and offering a delightful menu selection of cakes, scones, sandwiches and Laura Ashley classic blend loose leaf teas.
---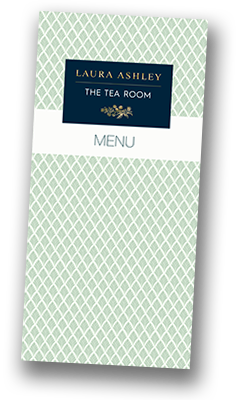 Click here to download the menu
---
Private Events
10am – 6pm The Drawing Room (3 hours*) Minimum numbers: 20
10am – 6pm Entire Tea Room (3 hours*) Minimum numbers: 30
6pm onwards Entire Tea Room Minimum numbers: 20
Afternoon Tea Prices
• Traditional Afternoon Tea – £20.00 pp
• Savoury Afternoon Tea – £23.50 pp
• Prosecco Afternoon Tea – £26.50 pp (traditional + glass of prosecco)
• Champagne Afternoon Tea £30.00 pp (traditional + glass of champagne)
• Children's Afternoon Tea £10.00 pp