Of all the places to book a staycation in the UK this summer, the Peak District has to be top of the list. On your Peak District holiday, you will have the opportunity to explore acres of unspoilt countryside and take in some truly spectacular scenery.  And if fresh air is what you're after then look no further. There are so many outdoor activities in the Peak District to keep you entertained. So don't be surprised if you spend the whole day outside in before heading back to your Peak District hotel for some well-earned rest and relaxation.
From high adrenaline adventures and fun-packed family outings. To relaxed day trips that give ample opportunity for drinking in those views, and famous markets.  There's so much fun to be had with a wide range of outdoors activities in the Peak District. Walking. Cycling. Climbing. Caving. White water rafting.  You name the activity and you're sure to find it.  Not to mention some of the best views in the UK.
So why not get active in the great outdoors on your Peak District holiday with one of these 10 outdoor activities in the Peak District.
10 OUTDOOR ACTIVITIES IN THE PEAK DISTRICT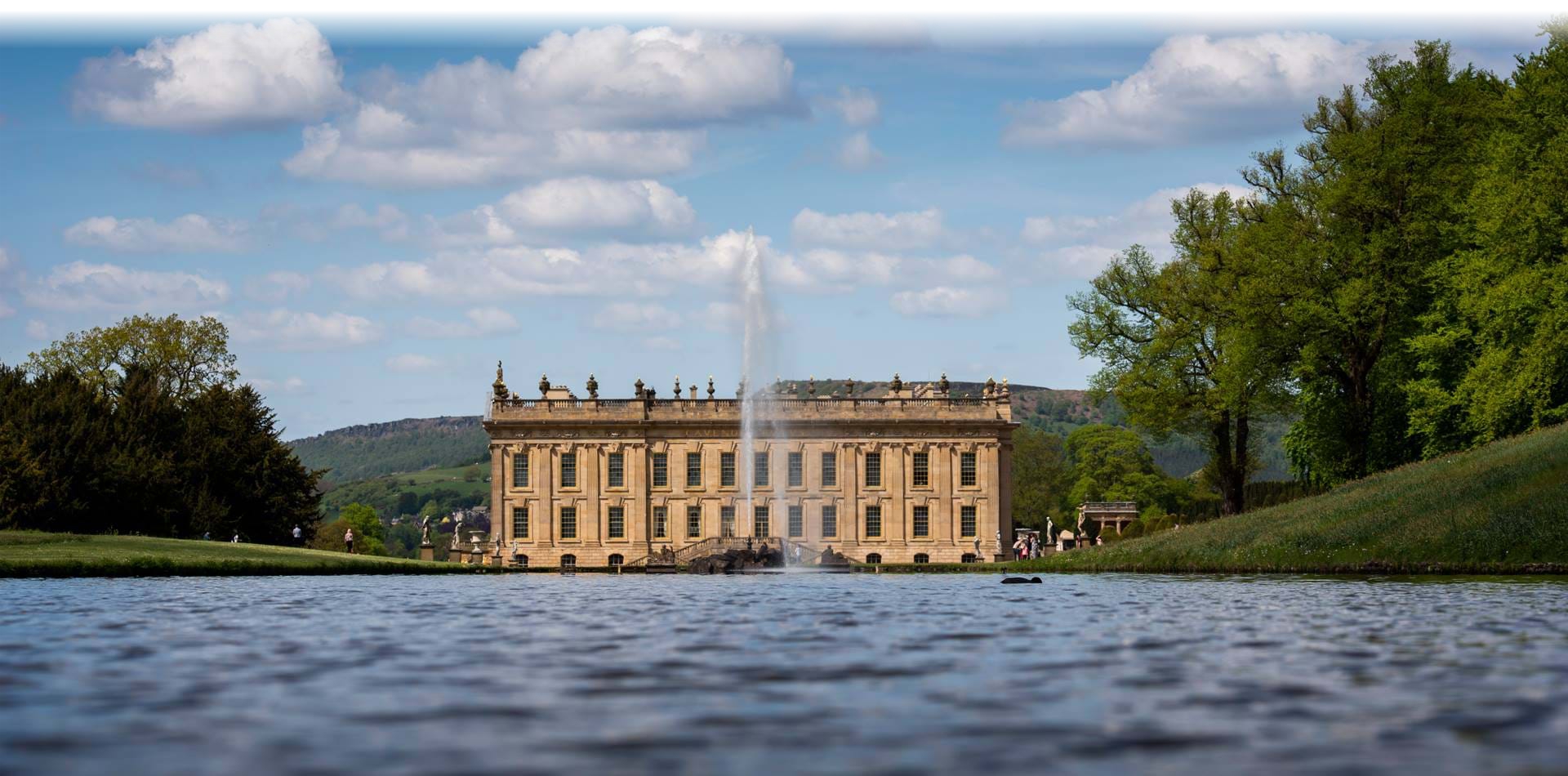 SURVEY THE GROUNDS LIKE LORD OR LADY OF THE MANOR AT CHATSWORTH HOUSE & GARDENS
First in our list of outdoor activities in The Peak District, is an impressive choice. Home to the Duke and Duchess of Devonshire, Chatsworth House is a sprawling Victorian country estate in the picturesque town of Bakewell. Activities on site include exploring the 105-acre garden which has been carefully cultivated over the past 500 years.
Younger visitors will enjoy the onsite farmyard.  It's home to everything from rare breed pigs to pygmy goats. An adventure play area offers rope parks, slides, trampolines, water and sand play. It will keep little ones entertained for hours and makes a visit to Chatsworth a fun day out for the whole family.
You can even order a luxury picnic hamper to collect on the day of your visit. Go to https://www.chatsworth.org/ to find out more.
EXPLORE WHAT LIES BENEATH THE HISTORIC TOWN OF CASTLETON
Castleton, in the heart of the Peak District National Park, is famed for its caves and mines.  It is the only place in the world where you can find the semi-precious Blue John stone. If you feel energetic then you can hike up to view the remains of Peveril Castle. Built in 1086 by William Peveril, son of William the Conqueror.
When planning a visit to Castleton, remember there as much to see underground as there is above. Take a trip below ground level and to greater depths. Here there are many caves and former mines to discover either by foot or on boat.
Take an incredible journey by boat through the flooded ruins of an old lead mine in the Speedwell Cavern.  Or pluck up the courage to visit 'The Devil's Arse' and see Peak Cavern's historic ropemaking works on your fully guided tour of the Peak Cavern.
Visit Speedwell or Peak Cavern https://speedwellcavern.co.uk/
TAKE A ROMANTIC STROLL TO LOVE LOCK BRIDGE, BAKEWELL
When pondering the top ten outdoor activities in the Peak District, be sure to plan one or two activities that allow you to take it slow. Ambling alongside the tranquil River Wye is romantic. But if you wish to pledge your heart to your significant other with a symbol of your forever love, then be sure to bring a padlock with you. Couple's attach their lock to the bridge to acknowledge their lasting commitment to one another. Consequently, the bridge is covered with thousands of them.
Spot some of the water's biggest fish along the way. And you must sample a Bakewell Tart – the pudding the area is famous for.
https://www.tripadvisor.co.uk/ShowUserReviews-g209968-d633866-r641335988-River_Wye-Bakewell_Peak_District_National_Park_England.html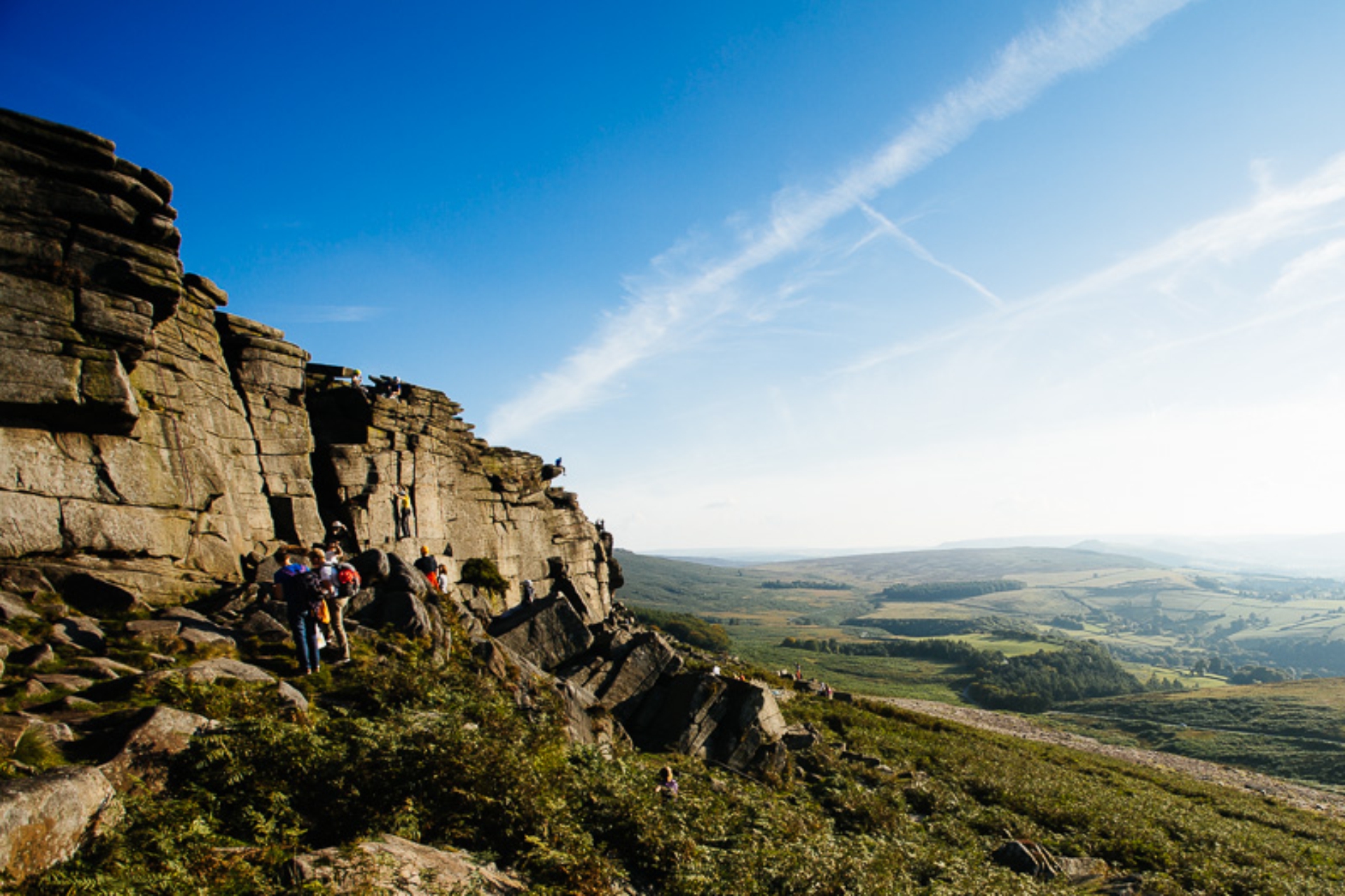 CLIMB EVERY MOUNTAIN
Outdoor Activities in The Peak District can suit the adrenaline junkies as much as families. The Peak District boasts some of the best climbing spots within the UK.  The most popular of which include Stanage Edge, Froggatt Edge, Curbar Edge, and Burbage. There are climbing routes for every level from beginner to seasoned professional. However, if you're starting out it's best to be guided by one of the many outdoor pursuits' companies based in the area until you find your feet. Whatever level you are and whichever route you choose, one thing is for certain. When you reach the top, you enjoy some of the best views around.
All of the routes above are a short walk away from a car park ensuring that they are all easily accessible from your Peak District Hotel, Mercure Sheffield Kenwood Hall Hotel and Spa.  
https://www.pureoutdoor.co.uk/
https://www.thebmc.co.uk/modules/rad/view.aspx?id=205
REACH DIZZY HEIGHTS OVER THE DERWENT VALLEY
Those less energetic view seekers can visit The Heights of Abraham. Ride the 1,136metre cable car system while enjoying panoramic vistas of the Derwent Valley and Derbyshire Dales. A ticket includes your cable car ride as well as guided tours through the region's Great Masson and Rutland Caverns. It has access to two children's adventure playgrounds included!
The hilltop estate covers 60 acres so there's lots to discover. And there are three dining spots to choose from including the Vista Restaurant, which sits at the top of the slopes looking down onto Matlock Bath.
Find out more at https://www.heightsofabraham.com/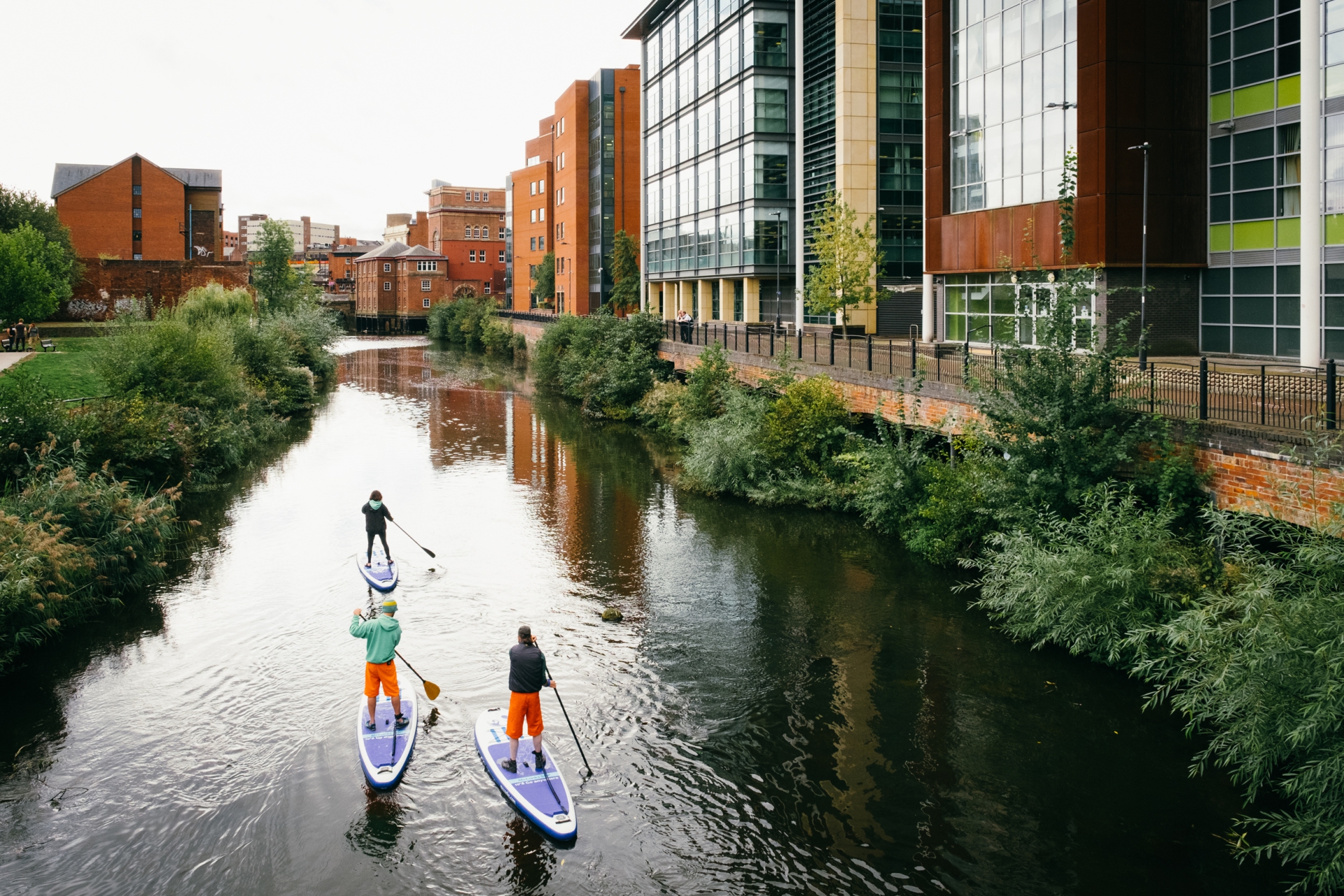 HAVE A FAMILY ADVENTURE
There are so many outdoor pursuits to choose from in the Peak District and your holiday here is a great time to bond together as a family in the great outdoors. DC Outdoors offers an affordable way to try something new and create special memories. You can choose from: Climbing, Abseiling, Weaselling, Stand up Paddleboarding (SUP), Canoeing, Kayaking, Hillwalking, Orienteering, Stream Scrambling. Choose one activity that lasts or day or sample a few different pursuits for a fun-packed adventure-filled day.
https://www.dcoutdoors.co.uk/family-adventure-days
TRY THE REGION'S FAMED SPRING WATER AT SOURCE
Buxton is the Peak District's spa town – famous for its spring water, which you can try direct from source at St Anne's Well in the centre of the town. While you're there, there are lots of outdoor family activities to do in Buxton including pony trekking at https://northfieldfarm.co.uk/ or a treetop adventure at Go Ape https://goape.co.uk/locations/buxton. Or simply take a stroll and take in the stunning architecture, described as – 'a mix of 18th century, Victorian opulence, Romanesque and Vernacular styles."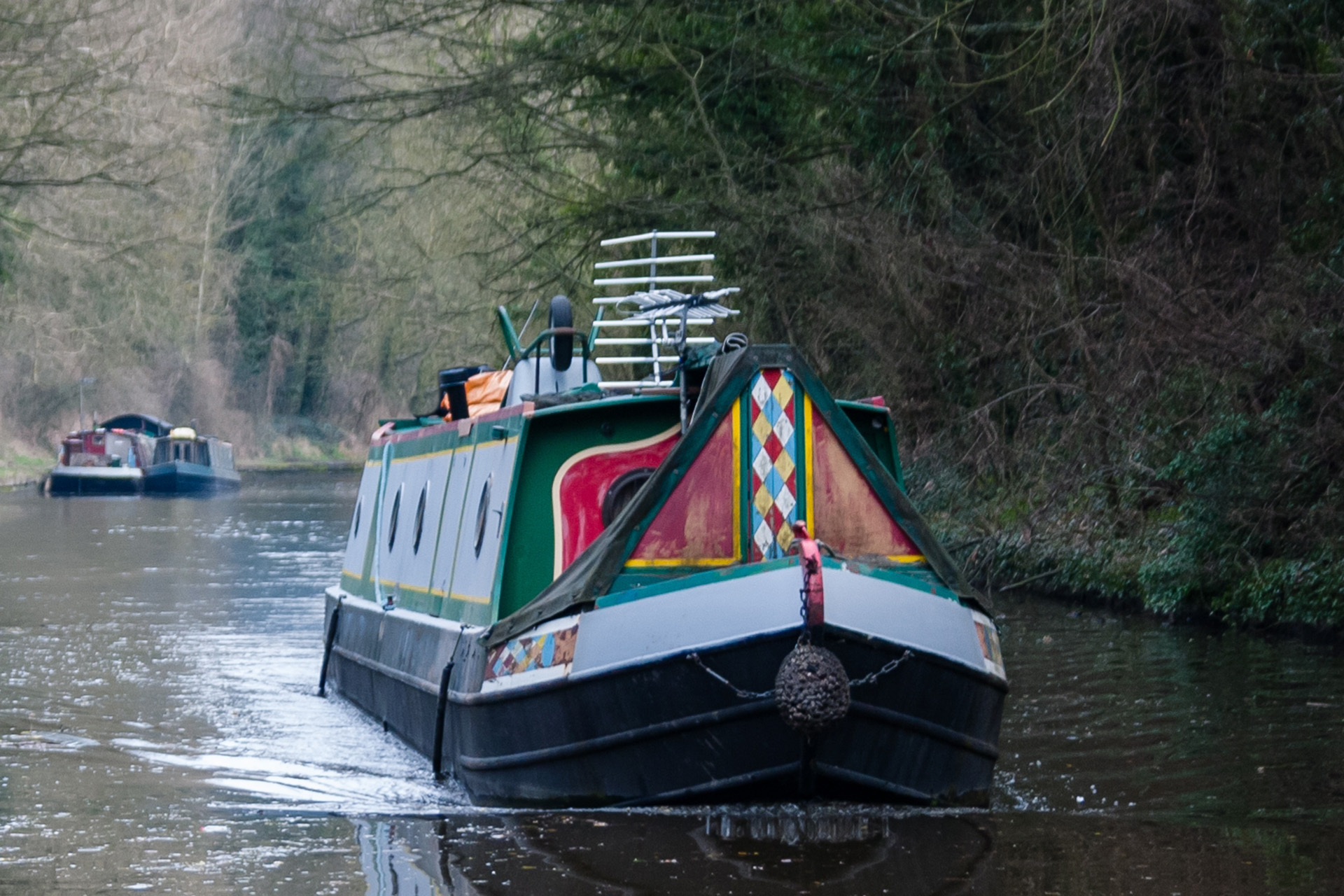 TRAVEL THE WATERWAYS
A source of much pride to locals, the Peak Forest canal is one of the most beautiful and well-kept canalways in the UK so be sure to include it in your top ten outdoor activities in the Peak District. There's nothing more relaxing than a walk beside the canal.  Aside from maybe a trip on a barge or cycling down one of the many and varied cycle routes in the region. Whether on wheels, foot or travelling by water you can visit the Canal River Trust to find the best routes.
https://canalrivertrust.org.uk/enjoy-the-waterways/canal-and-river-network/peak-forest-canal
TRAVEL THE WATERWAYS (BUT FASTER)
If you're more of an adrenaline chaser than a lazy canal barge-lover then white-water rafting might hold more appeal. It's an action-packed experience for thrill-seekers of any level, who are in search of a more exciting way to take in the Peak District scenery. And for an added bonus the route finishes at the pub. What more could you ask for?
Peak District white water rafting experiences start at £50 per person for a minimum of four participants with Hard Day's Knight, Derbyshire – https://www.harddaysknight.co.uk/activities/river-rafting
MEET THE RESIDENTS
Nearer to the Staffordshire edge of the Peak District, Peak Wildlife Park allows you to get up close and personal with lemurs, wallabies, penguins and a range of other exotic and endangered animals from across three continents.
https://www.peakwildlifepark.co.uk/
ONE FOR THE ROAD
Did we say 10 outdoor activities in the Peak District?  Well, we couldn't resist adding one more.  There are so many family activities to enjoy in the Peak District, but perhaps this one is a Peak District day out for the grown-ups….shopping.
SHOP AT THE REGION'S BIGGEST OUTDOOR MARKET
The historic town of Chesterfield is famous for its traditional open-air market. Browse a variety of stalls selling food, fashion, home ware and gifts. It boasts fresh seasonal produce, friendly market traders and value for money goods on Mondays, Fridays and Saturdays throughout the year. Every Thursday Chesterfield hosts a hugely popular flea market. Here bargain-hunters can rummage through the eclectic mix of second-hand goods, unusual bric-a-brac, antiques, vintage clothes, jewellery and craft. There is also an Artisan market on the last Sunday of every month.
Find out more here: https://www.chesterfield.co.uk/visiting/shopping/chesterfield-town-centre/chesterfield-market/

TIME TO REST
Once you've enjoyed the wealth of outdoor activities in The Peak District, you'll certainly need time to relax at a Peak District hotel that is close by.  
Mercure Sheffield Kenwood Hall Hotel and Spa is a gateway to The Peak District, right on the doorstep to the great outdoors and spectacular scenery. Browse our rooms and suites and book your next Peak District holiday here: https://www.kenwoodhall.co.uk/rooms/
Mercure Sheffield Kenwood Hall Hotel and Spa
Kenwood Road, Nether Edge, Sheffield S7 1NQ
0114 258 38 11
reception@kenwoodhall.co.uk